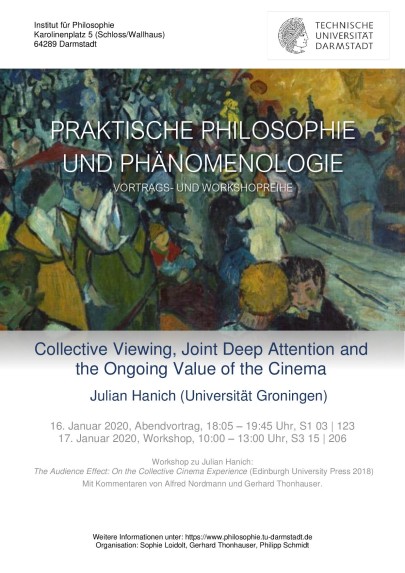 Fortsetzung der Vortrags- und Workshopreihe mit Prof. Dr. Julian Hanich
Die Reihe "Praktische Philosophie und Phänomenologie" wird am 16. und 17. Januar 2020 fortgesetzt. Zu Gast ist diesmal Julian Hanich (Universität Groningen).
Am 16. Januar wird er einen Abendvortrag mit dem Titel "An Invention with a Future: Collective Viewing, Joint Deep Attention and the Ongoing Value of the Cinema" halten (18 Uhr, Raum S1 03 | 023).
Am nächsten Tag findet von 10-13 Uhr (Raum S3 15 | 206) ein Workshop zu seinem Buch "The Audience Effect: On the Collective Cinema Experience" (Edinburgh University Press 2018) statt.
Julian Hanich wird am Donnerstagabend in englischer Sprache vortragen, diskutiert werden darf aber auf Deutsch. Der Workshop am Freitag wird vollständig in deutscher Sprache stattfinden.